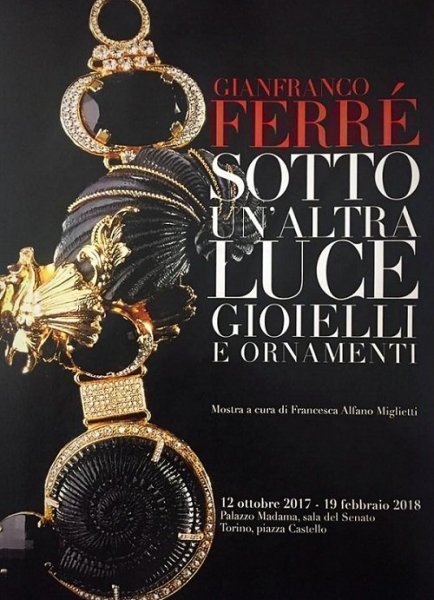 Locandina
GIANFRANCO FERRE'. Under another light: Jewels and Ornament
From October 12, 2017, to February 19, 2018, the stately Hall of the Senate of Palazzo Madama in Turin sets the stage for the exhibition Gianfranco Ferré. Under Another Light: Jewels and Ornaments.
Organized and produced jointly by the Gianfranco Ferré Foundation and the Turin Museums Foundation, the exhibition presents a world premiere of 200 jewel objects that cut across the entire creative narrative of the famous Italian fashion designer.
For Ferré, ornament has always been a passion, inseparably linked to the fashion collections and the result of a passionate and often innovative approach, never lower than the one for the dress. The objects on display, made for fashion shows from 1980 to 2007, are recounted as a complement to the dress and its accessory but they are exhibited along with some clothing in which it is the jewelery itself to invent and to build the dress, becoming its substance and soul. Even in this case Gianfranco Ferré's attention to materials is critical, as an essential part of his research.
For more informations Palazzo Madama Torino
Tags:
jewelery
,
shows
,
ornament
,
sala del senato
,
gianfranco ferrè
,
exhibition
,
palazzo madama
,
Torino
,
collection
,
jewels
,
clothing
,
fashion
,
accessories
,