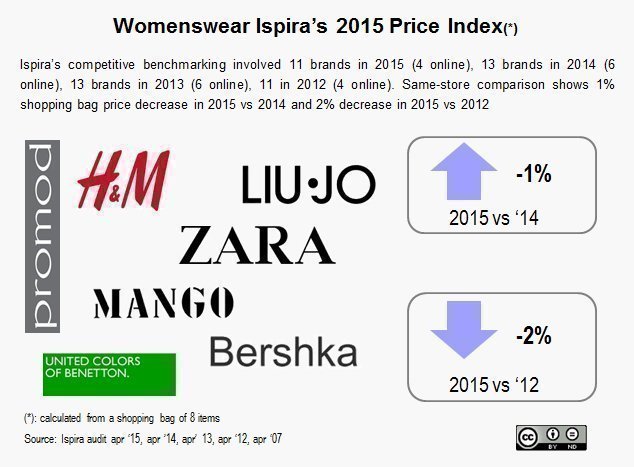 Ispira Price Index Summary 2015
Ispira Retail Intelligence - 2014 vs 2013 vs 2007
Ispira's competitive benchmarking involved 13 brands in 2014 (6 online), 13 brands in 2013 (6 online), 11 in 2012 (4 online). Same-store comparison shows 5.2% shopping bag price increase in 2014 vs 2012. However Price Index is still below the 2007 level, -9.2%

H&M and Bershka have highest price reduction compared to 2007. Compared to 2013, in 2014 Liu Jo and Mango had increased average price by more than 5%

Trousers, t-shirts, jackets show average price increase vs 2007; biggest reductions against 7 years ago in jeans, dresses, skirts. Denim and knitwear are the only product categories getting price reduction vs 2013

Ispira Price Index decreased 0.6% in 2014 compared to 2013. Mango had the biggest increase, almost 9%. Bershka Online, Bershka, H&M online, Zara Online had largest reduction

There is an overall increase on number of displayed options: 17% higher than in 2013, 8% more than 2012, 22% more than in 2007. Mango online and Benetton had the largest increase

On average online stores display 80% more options than physical stores however Promod and H&M have smaller online range than in their store

Offline and online price position is kept quite consistent across all brands

In denim most frequent entry price band is below €20 with only one exception in an online brand. Three price bands (up to €40). Value brands have decreasing number of options from bottom to top, lifestyle brands have highest number of options in the €30-40.
Tags:
womenswear
,
apparel
,
range planning
,
benetton
,
bershka
,
value retailing
,
best practice retailing
,
liu jo
,
mango
,
promod
,
zara
,
clothing
,
retail intelligence
,
hm
,
multichannel retailing
,
h&m
,
summer 2012
,
summer 2007
,
summer 2013
,
summer 2014
,