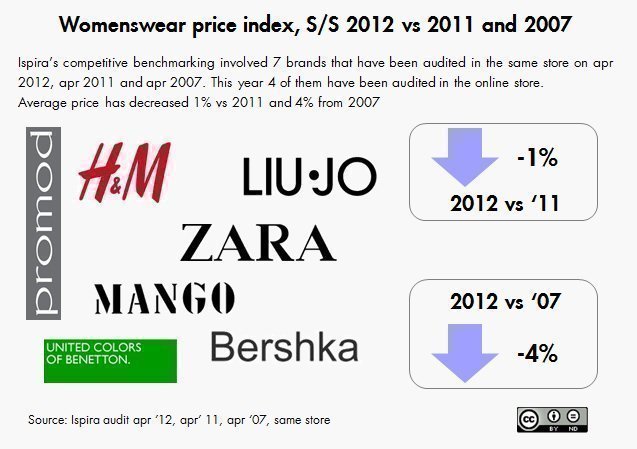 Womenswear price index, S/S 2012 vs 2011 and 2007
Retail Intelligence - 2012 vs 2011 and 2007
food, bars, catering, services
Ispira's competitive benchmarking involved 7 brands (Benetton, Bershka, h&m, Liu Jo, Mango, Promod, Zara) that have been audited in the same store on apr 2012, apr 2011 and apr 2007. This year 4 of them have been audited in the online store.
Average price has decreased 1% vs 2011 and 4% from 2007
Mango has radically reduced average price. All brands excluding Liu Jo and Benetton have lower price position than 5 years ago.
Price deflation has been measured in all functions, mostly in denim, dresses and knitwear.
H&M and Bershka have the lowest price position; H&M is the cheapest on 5 functions, Bershka and Bershka online on the other 4. The other 5 brands are ranked with a Price index ranging from 1.4 for Mango to 2.1 for Benetton.
Online and offline stores have the same price position
Range width has increased 14% in the last 5 years. This can be combination of higher display density techniques and slow selling rate. Bershka, Mango and Liu Jo have increased their visible range by more than 30%.
Online stores have much larger offer than their physical stores. Number of options ratio goes from 1.4 in Promod to 2,7 in Mango. Bershka and Zara online stores have higher proportion of tops, whereas Promod and Mango higher percentage of outerwear.
featured brands: bershka, benetton, h&m, liu jo, mango, promod, zara
Tags:
summer 2007
,
summer 2012
,
h&m
,
summer 2011
,
multichannel retailing
,
hm
,
retail intelligence
,
clothing
,
zara
,
promod
,
mango
,
liu jo
,
best practice retailing
,
value retailing
,
bershka
,
benetton
,
range planning
,
apparel
,
womenswear
,
soo
(01/06/2012 - 10:32)
pdf 2012 summary results are also available on Ispira's website