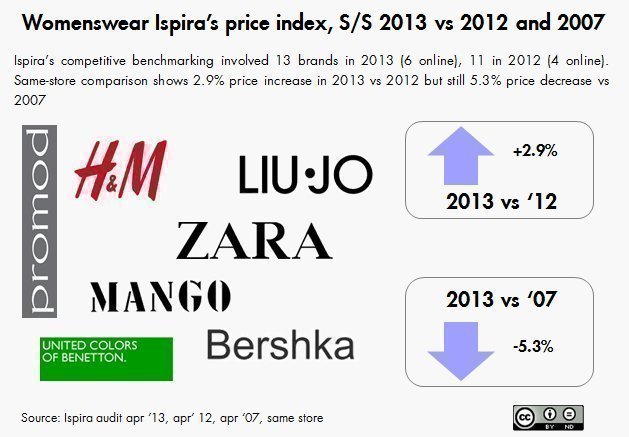 Summary Price Index, 2013
Retail Intelligence - 2013 vs 2012 and 2007
Ispira's competitive benchmarking involved 13 brands in 2013 (6 online), 11 in 2012 (4 online). Same-store comparison shows 2.9% price increase in 2013 vs 2012 but still 5.3% price decrease vs 2007.
H&M and Mango have much lower average price than in 2007. In the last year Liu Jo reduced significantly average price between 2013 and 2012.
Only 2 categories show average price increase vs 2007; 4 show average price at least 10% lower than in 2007.
Bershka has increased average price in the last 12 months and is now 19% more expensive than H&M. Mango, 4% cheaper than Promod in 2012, is now 7% more expensive. Both Zara and Benetton show tiny price reduction compared to 2012.
Zara has significantly reduced the number of options in store (and online), all others with the exclusion of Promod significanlty wider range than 2007 and 2007.
On average online stores display 50% more options than physical stores. LiuJo is the only exception with 30% less option, H&M and Promod have similar range, the 3 others trade 80% more options online at least. Pricing is kept quite consistent across different channels.
For more info about our competitive benchmarking services please visit our websit or write to steph@ispira.com
Tags:
womenswear
,
apparel
,
range planning
,
benetton
,
bershka
,
value retailing
,
best practice retailing
,
liu jo
,
mango
,
promod
,
zara
,
clothing
,
retail intelligence
,
hm
,
multichannel retailing
,
h&m
,
summer 2012
,
summer 2007
,
summer 2013
,