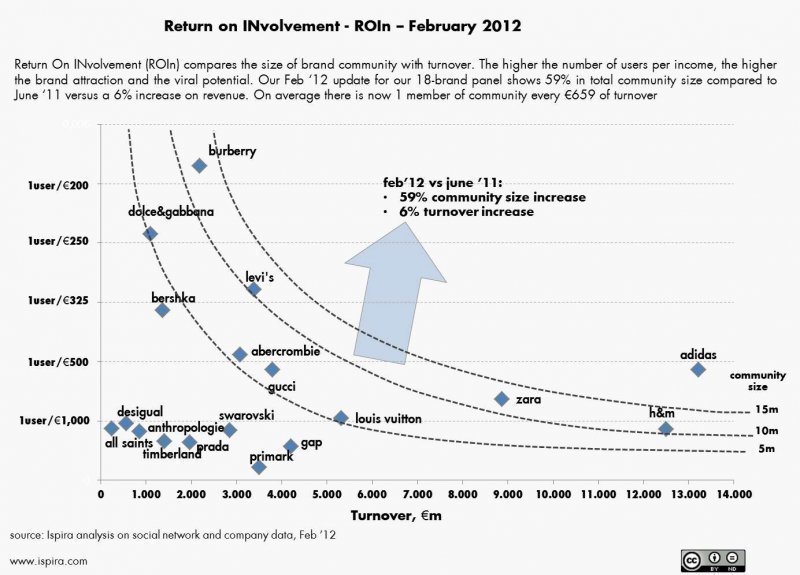 Return On INvolvement - Feb '12
Return On INvolvement - Feb '12
electricals, mobile, office
Return On INvolvement (ROIn) compares the size of brand community with turnover. The higher the number of users per income, the higher the brand attraction and the viral potential. Our Feb '12 update for our 18-brand panel shows 59% in total community size compared to June '11 versus a 6% increase on revenue. On average there is now 1 member of community every €659 of turnover.
Website involvement compares website popularity and turnover
Brands above the trend line as Abercrombie and Burberry have a higher website traffic than the sample average. On the other side brands below the trend line as Primark and Louis Vuitton get fewer visits than the sample average. The average ranking of our 18-brand panel is 19,600 compared to 28.000 in June '11.
18 brands featured: burberry, gap, gucci, louis vuitton, prada, primark, swarovski, timberland, zara, anthropologie, adidas, all saints, desigual, abercrombie, bershka, dolce e gabbana, hm, h and m, levis
Tags:
digital marketing
,
web2.0
,
ROIn
,
Return On Involvement
,
abercrombie
,
levis
,
H and M
,
hm
,
dolce e gabbana
,
desigual
,
social network
,
all saints
,
adidas
,
anthropologie
,
zara
,
timberland
,
swarovski
,
primark
,
prada
,
louis vuitton
,
gucci
,
gap
,
best practice retailing
,
burberry
,
bershka
,
soo
(01/06/2012 - 10:32)
you can download the pdf document on ispira website